Testimonials
June 2018
We recently purchased our first caravan from your Highbridge Centre and I felt compelled to let you know how impressed we were by the experience.
We live in Cardiff and initially visited some local caravan centres and could not find anything suitable. I discussed this with my cousin and he had no hesitation in recommending your company as he had recently purchased a caravan from you. I first visited Highbridge 3 weeks ago and after looking at a few caravans I asked for some advice and was immediately approached by Eddie Powell. On explaining to Eddie that we were new to caravanning the first question was to find out what vehicle we were intending to tow with, to ensure that the weight ratio to the caravan we chose was correct, something I had not been asked at the caravan centres we visited in South Wales. Eddie then proceeded to show us round 2 of the caravans we were intending on purchasing and he was very informative, friendly and unhurried so we were immediately a lot wiser as to what we should decide upon for our new investment. Once we made our decision we agreed terms with Eddie and agreed to collect the caravan 2 weeks later after it had been checked and serviced.
We arrived at Highbridge on Friday 8th June at an appointed time to collect the caravan and were greeted by Handover Paul (Harrison). Paul was also very informative, friendly and unhurried, in fact he gave us a thorough demonstration on how to use and enjoy the caravan and this process took 2 hours which was surprising but for our benefit was necessary. We then took the caravan up to the main area to collect some equipment which Eddie had agreed to supply us with and we were assisted by Kevin Stokes who dealt with us in the same way as his colleagues. Kevin gave us many tips on how to use and look after our caravan and equipment which I am am sure will help us in the future. One of your other members of staff noticed I was struggling to fix the towing mirrors to my car and immediately helped to apply them.
In particular Eddie, Paul and Kevin were outstanding and went out of their way to assist us but every one of your staff we met at Highbridge were only too willing to assist us in a friendly and informative way and they are a credit to you and your company.
I only wish your company had a branch in South Wales as you are miles in front of the competitors here.
We will not hesitate to recommend you in the future.
Paul & Kay. Cardiff
Colin & I wanted to say a big thank you for all your help in getting our caravan fixed. It is so important to us to have a good dealership to rely upon. We have renewed faith in the Devon Highbridge...we hope we don't see you too often but are glad that you are there when we do.
Colin & Amber.
May 2018
Mike is full of knowledge and experience very polite very patient. A asset to the company. Other staff polite and friendly. Recommend every time. A wonderful and pleasant experience Very professional and knowledgeable helpful. The best
Mr Jon S.
March 2018
Would just like to tell you how happy I am with the first years service and a few warranty jobs I had on our lunar Delta TI all done very well and handed back this morning 24/3/18 by a lady called Helen who was very nice and so helpful all round praise where it's due
D Hatcher.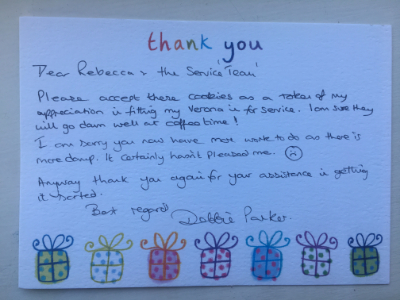 Thank you... Dear Rebecca + the Service Team, Please accept these cookies as a token of my appreciation in fitting my Verona in for service. I am sure they will go dam well at coffee time! I am sorry you now have more work to do as there is more damp. It certainly hasn't pleased me. :( Anyway thank you again for your assistance in getting it sorted. Best regards, Debbie Parker.
Debbie Parker.
Thank you so much for fabulous service in buying our new to us motorhome. Thanks to Jody White for sorting the deal and helping us to find the right van for us. We've dealt with Jody in the past and he's as honest and helpful as always. The handover was fabulous and Jaki was very helpful and knowledgeable and gave us a very smooth and helpful handover. All the staff were very polite and helpful. And we even got a night at a local campsite to check everything and settle into the motorhome. Thank you again for a beautiful motorhome and we we're especially pleased with all the extras and work that had been done pre delivery.
Sylvia and Mike..
February 2018
Hi, I need to tell you about the excellent service I received from Rebecca when I had a problem with the remote control for the mover on my caravan whilst away in Cornwall. She contacted the supplier and arranged for a replacement controller to be sent to me as soon as I got home. All was done without me being aware of what she had done until it had all been arranged....excellent service and so thoughtful. Best wishes. Colin Dawe.
Colin Dawe.
Many thanks to Tracy and all the staff that we came into contact with during the time spent collecting our motorhome on Thursday 1/2/2018. It was a pleasure to meet so many friendly and helpful people and a special mention goes to Paul for his attention to detail in handing over the van. Many thanks once again, Lynn & Mike Baldwin. Elddis Firestorm 100
Lynn & Mike Baldwin.
Big thanks to Chris F in after sales for going the extra mile in his outstanding service to me. We bought a new van from you in Dec 2017,we live 300 miles from you, I was nervous in case we had any issues when we first started to use it. Well we had a few issues,added to the issues were the time pressure of us being booked on a Ferry to Spain on Sunday the 4th Feb...I have given myself 5 days to get to grips with the new van. Having worked for the Virgin group of companies where service to customers is driven right from RB himself,it was refreshing to find another company where a member of their staff took great care.expertise,understanding and empathy with my issues . Chris..was attentive,knowledgable, and patient ...and most importantly delivered solutions to my issues , always reminding me that his aim was to get me on the ferry for the start of my holiday today. I' m writing this at the ferry port. Your great customer care ,delivered to me over the last few days had made me an ambassador for your company. Thank You.
Vince O'Donovan.
December 2017
Dear Sir.
I would like to place on record how helpful one of your staff have been over my purchase of a Rapido 9090 df motorhome. I only know him as "TERRY" in after sales.
He is always keen to answer all sorts of initial problems, come up with answers, and has been especially knowledgeable over a windscreen wiper problem on my motorhome.
I have bought a number of products over the years from you, and my recent purchase has been made more enjoyable thanks to Terry's help. Regards. Ashford Price
Ashford Price. Wales